Ever since Thecus released the 5-bay N5810PRO, it has been the popular storage solution for data-heavy small and medium businesses as well as power users, delivering robust resilient data integrity with accelerated performance. Powered by an Intel Celeron Quad-Core processor and equipped with
5 Gigabit LAN ports
, the N5810PRO reaches blazing throughput speeds of up to
500 MB/s through Link Aggregation
. First launched with ThecusOS 5.0, the NAS now operates on the latest iteration of ThecusOS 7.0. Along with faster, more intelligent and intuitive operation, the N5810PRO currently offers (brings) an ensemble of applications and functionalities.
Thecus App CenterIncorporating the App Center in ThecusOS 7 allows users access to hundreds of official and 3rd party apps available on Thecus NAS directly from the user interface. The Thecus App Center offers a host of utilities for users for backup, security, file management, cloud services, and much more.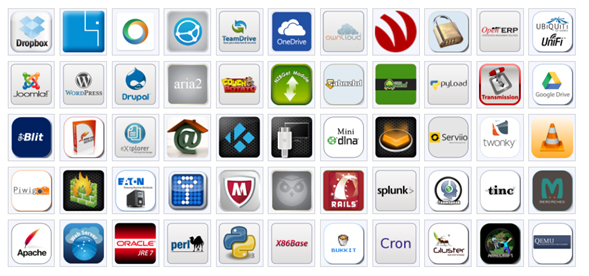 Thecus Surveillance Center
Available in the App Center, the Thecus Surveillance Center provides a user-friendly platform to manage your security system. This free App available for ThecusOS7 enables users to transform their Thecus NAS into a Network Video Recorder (NVR), allowing the configuration and deployment of up to eight IP cameras into a single interface system, with real-time surveillance monitoring and playback.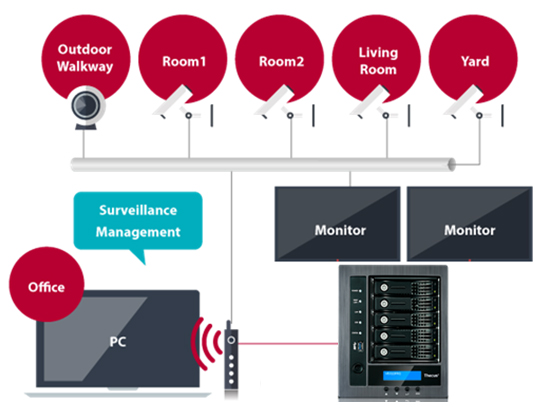 Mobile Cloud
In today's world, connectivity is key, that is why ThecusOS 7.0 brings with it a continuously growing number of mobile applications, providing users with ease free connectivity between their phones and home or business NAS.
Thecus Connect™ 
Thecus Connect™ gives the ability to portably control and check their N5810PRO at their fingertips. It provides up-to-date information on their systems settings, if trouble emerges, smart alerts will notify the user immediately and send reminders until the issue is resolved.
Thecus Wizard™ 
The Thecus Wizard™ App allows quickly streamline setting up your N5810PRO with the ease use of your phone. Upon starting up your N5810PRO for the first time, this app will allow you to auto configure your network settings, build RAID and set up private accounts
P2P Connectivity ORBWEB.ME APP
Enjoy an always accessible cloud experience. Orbweb.me is a P2P module that allows users to easily view, stream and manage files in their N5810PRO anytime and anywhere. No IP address is required. Besides that, Orbweb 4.0 offers several features including webcam monitoring, timeline view and snapshot.
Data Backup
The integrity and security of personal and business data is a core function. ThecusOS 7.0 has a selection of robust and dependable solutions to provide backup strategy to protect against unexpected data loss.
Acronis Backup
Back up all your data with One-click Protection or pick and choose only your most important files with Acronis's advanced backup software.
Real-time Remote Replication (RTRR)
Users can back up files instantly to their N5810PRO, external hard drive, or remote NAS. RTRR saves you time as it is able to back up data immediately and automatically.
System Failover
A fault tolerance process that creates mirrored data volumes. With at least two Thecus NAS available, data is copied by schedule and all changes are mirrored between the two NAS.
Local Backup
A fault tolerance process that creates mirrored data volumes. With at least two Thecus NAS available, data is copied by schedule
Cloud Backup
Guard your data with RAID at home and an additional level of protection in the Cloud. Just drag and drop files into the folder on your N5810PRO and access them on any computer or mobile device with DropBox, Amazon S3 or ElephantDrive
Snapshot Backup
Through BTRFS subvolumes, snapshots of data at various time points can be manually or automatically made and just as easily later restored to rollback files or folders to previous states.
Contingency Power Supply

The N5810PRO is backed up by a mini-UPS (Uninterruptible Power Supply) based on a Lithium-ion battery. The backup battery should help preserve data even in the midst of a power outage by allowing the system to store unwritten data to hard disks and shut down safely by providing another 5 minutes of run time before the device shuts down.
The N5810PRO was engineered for easy scalability, high performance, and strong reliability to support the data demands of a growing business. Offering a comprehensive and robust solution for business and power users in need of both powerful performance and strong security. An exceptional fusion of features and hardware backs this NAS, arming users with enterprise functionality and stability.
The Thecus N5810PRO can be equipped with five hard drives for a combined capacity of up to 60 TB and if you need more storage in the future, this NAS can easily be upgraded with another N5810PRO via Scale-Out without resetting or reinstalling the whole RAID system.
The Thecus N5810PRO including ThecusOS 7.0 is available now at your favorite retail or online shop.

For more information about the N5810PRO, go to:
http://www.thecus.com/product.php?PROD_ID=108
For more information on where to buy this product, go to:
www.thecus.com/wtb.php