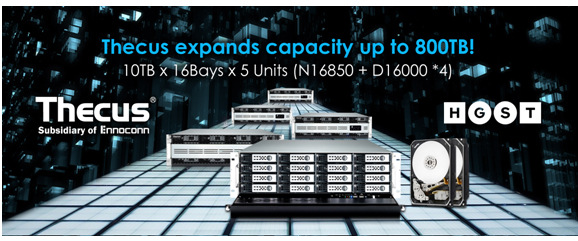 Thecus today announced the addition of HGST's mammoth 10 TByte Ultrastar® He10 3.5" hard drives with SAS 12Gbit/s interface to its NAS compatibility list. Thecus' users now have the opportunity to seriously upgrade their NAS solutions, arming themselves with next-generation capacity and high reliability with supercharged performance.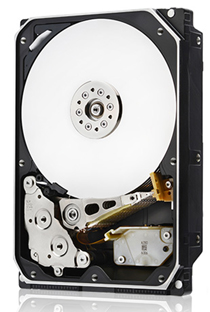 Engineered to meet greater storage needs, The He10  is drop-in ready for any enterprise-capacity application or environment. Based on field proven, third-generation HelioSeal® technology, it offers the lowest power profile in the industry to help data center architects meet eco-environmental goals and requirements. Delivering herculean reliability with it's rating of two and a half (2.5) million hours mean time between failure (MTBF).
"HGST is once again at the forefront of innovation. Adding HGST's latest 10 TByte HGST Ultrastar® He10 3.5 hard drives to the entire HGST NAS lineup provides customers with the maximum advantage of top technology trends that will deliver a huge impact to their lives and business," said Florence Shih, General Manager at Thecus Technology Corp.
With this HDD upgrade, the maximum capacity of Thecus NAS has now been raised to a titanic 800 TByte when used with the N16850 and four daisy-chained D16000.
To discover the full range of HDD compatibility for Thecus NAS, please visit:
http://www.thecus.com/sp_comlist.php
For more information on the HGST's Ultrastar He10 HDD, go to: