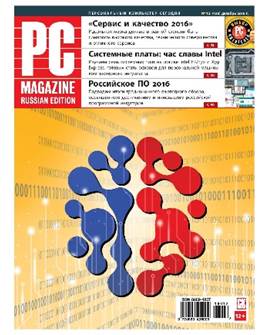 PC Magazine/RE, Russia recently celebrated their 25
th
anniversary. To cherish this milestone a special edition of the magazine was issued. It was dedicated to the IT industry's development throughout the last 25 years. The plans and current innovations of Thecus Technology Corp, were highlighted in this issue, as one of the founders and many new technologies innovators in the industry of data storage.
Windows Storage Server is designed by Microsoft specifically to meet the requirements of small and medium businesses who would like to use the benefits of cloud-services in their infrastructures. This operational system allows to deploy a hybrid type of infrastructure and data access, which means combination of the reliable local solutions for data storage, printing, back-up, identification of the user rights and secured access and external services which are provided by Microsoft Azure cloud.  Thecus NASs working on Storage Server 2012 R2 Essentials have got such key important technologies like reliable secure storage of the critical business data, scalability, integrated cloud services (including Microsoft Azure Backup), centralized management, remote access, and many others.
Founded in 2004, Thecus Technology Corp. constantly improves and innovates, engineering platforms that are based on the newest released components and technologies as well as software. Easy management and monitoring of the system, high efficiency, high focus on secure data storage and always signature design style – all of this has caused businesses and enterprises to develop interest in Thecus solutions.
In May 2016 Thecus Technology Corp. was acquired by Ennoconn Corporation, and thus became part of the Foxconn IPC Technology group. Partnered together, this diverse group of companies work in tandem to provide a total IoT (Internet of Things) solution.  This allows Thecus to further develop their solutions, bringing fundamental changes and innovations into the storage industry, which is very important as NAS will play one of the key roles in the future IoT ecosystem.
For the whole article please, go to the December 2016 Issue of PCMag/Re # 12 (306).
For the detailed information about where to buy Thecus Windows Storage NAS please, go to:
http://www.thecus.com/wtb.php
For more detailed information about Thecus Windows Storage NAS series please, go to:
http://wss.thecus.com/