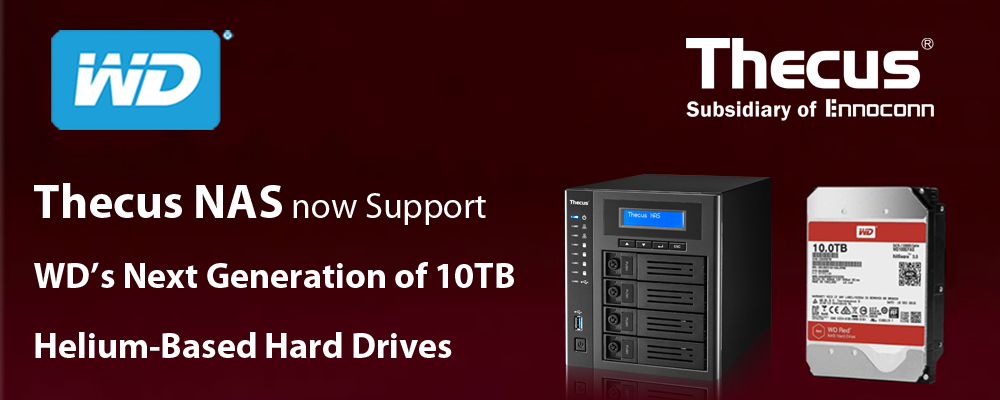 Thecus Technology Corp proudly announces the addition of Western Digital's next generation of Red® and WD Red Pro NAS hard drives to its NAS compatibility list. These soon to be released 10TB capacity models are optimized for use in personal, home and small to medium business NAS systems.
Designed with Western Digital's HelioSeal® helium-technology, the WD Red 10TB hard drive provides higher capacity and performance to meet the increasing storage needs of always-on, single-to-8-bay NAS systems. The helium-based design enables a 25 percent capacity increase from the WD Red 8TB NAS storage drive. With support for up to 16 bays in tower- and rack-based systems, the WD Red Pro 10TB hard drive delivers the same high performance, reliability and capacity to systems operating in up to 16 bay NAS systems.
"The WD Red 10 TB drives bring a much-needed capacity increase for SOHO and SMB users managing their personal and private clouds. These drives, along with our Thecus NAS units, will provide high-powered, comprehensive solutions to the storage industry, and we are pleased to expand our work with Western Digital to provide high-performance, reliable, and cost-effective NAS solutions for our SOHO and SMB customers," said Florence Shih, General Manager, Thecus.
 "In July 2012, we introduced the WD Red line to address the unique performance, compatibility and scalability challenges facing home and small business NAS customers," said Brendan Collins, vice president, devices business unit at Western Digital. "Five years and over 16 million WD Red family hard drives later, we continue to advance the platform, bringing our innovative HelioSeal platform and other advanced technologies that allow customers to meet their evolving private cloud needs."
Availability
These hard drives have a global shipping date anticipated for May 31st. The WD Red 10TB NAS hard drives feature a three-year limited warranty and a $494.00 USD manufacturer's suggested retail price (MSRP). The WD Red Pro 10TB drives feature a five-year limited warranty and a $533.00 USD MSRP.
More information about WD Red hard drives, go to
https://www.wdc.com/products/internal-storage/wd-red.html
For the full Thecus NAS compatibility list, go to:
http://www.thecus.com/sp_comlist.php