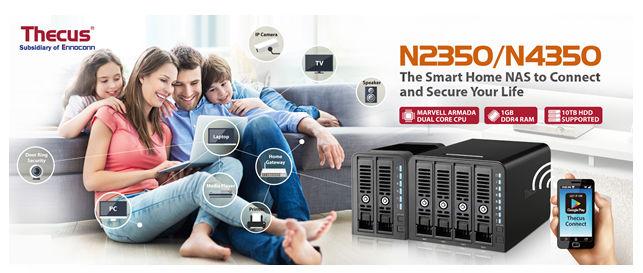 Earlier this year, Thecus Technology announced their new "Smart Home NAS" series, the
N2350
and
N4350
. Catering for beginners and rookies to network storage who are looking to step away from the still not overly safe public cloud services and who want to secure their data at home, while still having it securely accessible when away.  As of today, Thecus can finally assure that N2350 and N4350 are widely available worldwide at very attractive prices.Both the Thecus N2350 and N4350 come with energy-efficient and speedy Dual-Core processors and 1 GB of DDR4 RAM but more importantly, they are equipped with the recently enhanced
ThecusOS 7.0
for easy and quick setup and usage. The included Photo Center is perfect for storing and managing your precious pictures and the extensive App Center offers a wide variety of useful apps to expand the NAS with more features for backups, downloads, surveillance by connecting IP cameras, content management, web and email services, just to name a few examples.
The N2350 and N4350 can quickly be integrated into your home network by the Gigabit Ethernet port and are not just accessible by cable or WiFi at home but also by notebook, tablet or smartphone when on the road. Want to check a vacation photo from a few years ago or some important insurance information on your mobile? As long as it's safely stored on your NAS and you have internet access via a router, it's no problem at all, even when you're hundreds or thousands of miles away.
While the Thecus N2350 can be equipped with two hard drives for a combined capacity of up to 24 TBs and is available now for less than 120 Euro/USD, the Thecus N4350 can pack up to four HDDs, offering up to 48 TBs of storage space for less than 200 Euro/USD. Both are available now at your favorite retail or online shop.