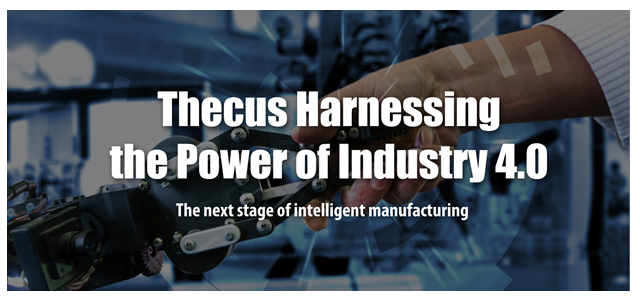 Automation is deeply rooted in every industry, playing a key role in production. One of the many benefits of Thecus being in the Ennoconn Business Group is that it harnesses the manufacturing might of Industry 4.0.The smart manufacturing process of Industry 4.0, allows businesses to generate new levels of quality assurance, efficiency and productivity.
WHAT IS INDUSTRY 4.0?Industry 4.0 is the New Industrial Revolution, Industry 4.0 utilizes digital technologies, automation, cloud computing, machine-to-machine communication over the highly acclaimed "Internet of Things" (IoT) and smart technology. These technologies allow intelligent infrastructures which in turn lead to creating really "smart factories". It is truly an Industrial Revolution and the manufacturing innovation shown in the Ennoconn Business group and associated factories have been leading the industry since 2014.
"Our Industry 4.0 manufacturing processes allows Thecus to deliver the highest levels of reliability and quality assurance to our customers", said Florence Shih, General Manager of Thecus.
Industrial IoT technology
As mentioned, Industry 4.0 manufacturing involves working with industrial IoT technology. When devices are connected, the data they generate can flow into software applications that create a smart factory environment. Management can closely monitor and benchmark performance this information, with the accumulated data, steps can be swiftly taken to prevent mistake, decrease wastage and improve the overall effectiveness of the manufacturing process.
The Value of Industry 4.0
Built with industrial efficiency, the cost to manufacture an electronic device has dropped substantially. This has allowed Thecus to offer its latest consumer NAS at an almost unheard of value. The new 2-bay and 4-bay NAS from Thecus, N2350 and N4350, are shining examples of this new industry architecture and process, delivering higher performance, more features, better software and the solid build that Thecus is traditionally known for at an even lower price than their respective predecessors.